19 giugno 2019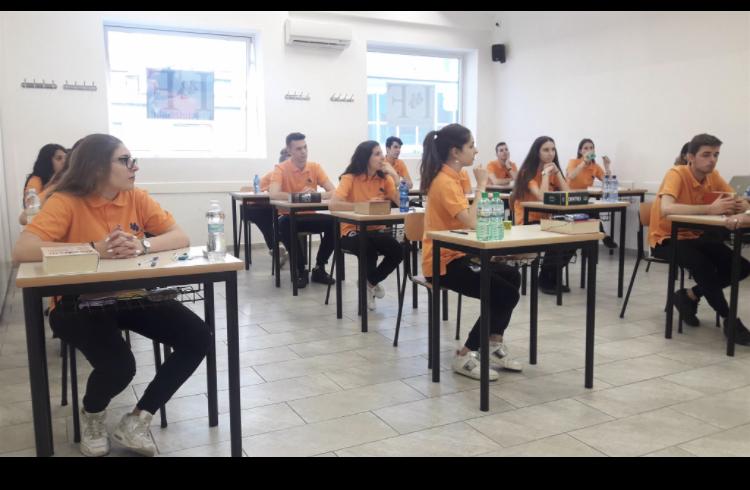 Today, June the 19th the Final Exam started for the Vth grade students of the Technical Technological IT, Technical, Economics, Tourism and the Human Science High School with an Economic Social Option. The ITALIAN WRITTEN TEST WILL BE THE FIRST PART.
Our students were wearing the orange polo t-shirt with the Freud logo and they could choose among the following types of essays:
· TYPE A - ANALYSIS AND INTERPRETATION OF AN ITALIAN LITERARY TEXT
CHOICE A1 : Giuseppe Ungaretti, from L'Allegria Il Porto Sepolto
CHOICE A2 : Leonardo Sciascia, Il giorno della civetta, ADELPHI, VIth Adelphi edition, Milan, January 2004, pp. 7-8
· TYPE B – ANALYSIS AND PRODUCTION OF AN ARGUMENTATIVE TEXT
CHOICE B1: Text taken from: Tomaso Montanari, Istruzioni per l'uso del futuro. Il patrimonio culturale e la democrazia che verrà (Instructions for future and the incoming democracy) mimum fax, Rome 2014, pp. 46-48
CHOICE B2: Text taken from: Steven Sloman – Philip Fernbach, L'illusione della conoscenza, (the illusion of knowledge), Italian edition by Paolo Legrenzi, Publisher Raffaello Cortina, Milan, 2018, pp. 9-11
CHOICE B3: THE LEGACY OF THE XXTH CENTURY - This text is taken from the introduction of the collection of essays "La cultura italiana del Novecento" (The Italian Culture of the xxth century) byLaterza 1996; in the introduction Corrado Stajano, a journalist writer comments on some statements by some protagonists of the XXth century.
· TYPE C – CRITICAL CONSIDERATION AND ARGUMENTATION ABOUT CURRENT ISSUES
CHOICE C1: Text taken from the speech by the Prefetto Dottor Luigi Viana, on the occasion of the celebrations for the thirtieth anniversary of death of General Carlo Alberto Dalla Chiesa, Mrs. Emanuela Setti Carraro and the State Police Officer Domenico Russo. CIMITERO DELLA VILLETTA PARMA, 3rd SEPTEMBER 2012
CHOICEC2 : Between sport and history
Tomorrow, the 20th of June, there will be the second written test …
GOOD LUCK GUYS!