14 novembre 2019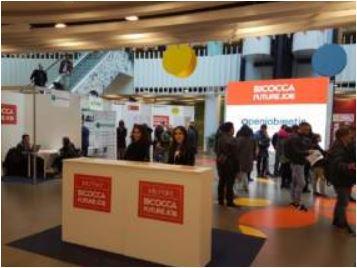 On Novemver the 15th 2019 the Third Grade classrooms of IT, Tourism and Human Science High School will take part in the free event "Future job" promoted by shopping centre Bicocca Village.
It's an event dedicated to the job, the training, the school, the post-graduation guidance and the innovation.
CONTENT: this initiative is a free space where the offer and the demand can meet and communicate, exchange information and concrete tools in order to promote the labour market through the acquisition of the needed skills to find a new job. Some National companies, job agencies, employment centres, universities and higly innovating local companies will mainly take part in this event.
AIMS AND OBJECTIVES: the students will be given the chance to take part in an interesting conference about the labour market and directly meet the companies that will introduce their services and collect the CVs.
Further services will be offered like the CVs review, the advisory services focused on the job interview, the writing of the CV and the cover letter. The students will also have the chance to meet the most dynnamic and innovative players of the territory like the start-ups, the fab labs, the coworking environments and so on.
EVENT PLANNING:
| | | |
| --- | --- | --- |
| | Friday the 15th | Description- synthesis |
| 09:00 10:00 | Coop | Being a Coop |
| | | Personal Branding and informed choice of a job opportunity. The different ways to assess a candidate: |
| 10:00 11:00 | Manpower | traditional interview, speedate, assessment, panel |
| | | interview |
| 11:00 12:00 | Synergie | Synergie will be explaining how to start searching for a job |